Posted by wernuts2 on 11th Oct 2019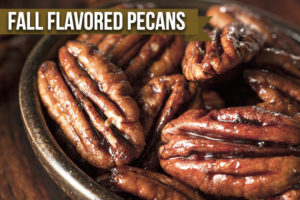 Roasted pecans are a wonderful treat that everyone will love. They are super easy to make. You simply mix the ingredients together, spread flat on a pan, then put them in the oven at 225°F degrees. Then stirring every 15 minutes until fully toasted. This usually only takes an hour.
Here are some of our favorite fall flavored pecans to get you started.
1. Pumpkin Spice Roasted Pecans
Everyone loves pumpkin spice flavor so much, that Fall is now known as pumpkin spice season. This delicious flavor is the perfect match to Natchitoches pecans: 3 cups unsalted pecans ⅓ cup brown sugar 2 tsp pumpkin pie spice 1 egg white 1 tablespoon vanilla extract
2. Apple Pie Roasted Pecans
We love throwing a handful of our Natchitoches pecans into our favorite apple pie recipe. The flavors come together beautifully and also work for roasted pecans: 3 cups unsalted pecan halves 3 cups apple cider ⅓ cup brown sugar ¼ tsp salt 1 tsp ground cinnamon ½ tsp nutmeg ¼ tsp allspice
3. Maple Ginger Roasted Pecans
Maple roasted pecans are a must-have every fall. This recipe takes the flavor to the next level with the addition of a bit of ginger: 5 cups unsalted pecan halves ½ cup sugar 2 tsp salt 1 tsp ground ginger 2 tbsp honey 2 tbsp pecan oil
4. Sage And Rosemary Roasted Pecans
Don't have a big sweet tooth? Don't worry, this savory nut recipes will help you enjoy the spirit of the fall without the sugar rush: 4 cups unsalted pecans 1 large fresh rosemary sprig, leaves stripped About 3 dozen fresh sage leaves 3 tbsp pecan oil Dash of salt and pepper to taste
5. Cranberry Spiced Pecans
There is nothing that says fall holidays more to us than pecans and our mother's homemade cranberry sauce recipe. This recipe combines the two for a perfect Thanksgiving dinner appetizer: 3 cups unsalted pecans 2 tbsp pecan oil 2 tbs chopped fresh rosemary 1 TBSP brown sugar 2 tsp salt ¾ tsp cayenne pepper 1 cup dried cranberries If you are looking for the best quality pecans, you won't find them at a grocery store. You'll have to order from a pecan store online. At Natchitoches our pecan store online offers the finest pecans perfect for any of your favorite roasted pecan recipes. Check out our pecan store online and share with us your favorite roasted pecan recipes. You may even be featured on our blog!