Posted by wernuts2 on 10th Mar 2017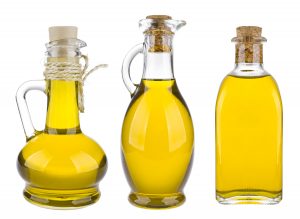 You may have seen pecan oil while perusing
the specialty items
at Natchitoches Pecans and wondered what it is and how to use it. Pecan oil is a delicious alternative to other rich oils like olive or almond oil. It is an incredibly healthy oil because it contains high levels of monounsaturated fats which may help reduce the bad cholesterol that leads to heart disease. Pecan oil also has a very high smoke point at 470°, so it is perfect for all cooking applications including deep frying.
The flavor of pecan oil is unparalleled, it imparts a clean, nutty, hickory flavor to any food.
If you are curious about our pecan oil, here are some great recipes to try:
1. Grilled Salmon With Pecan Butter
Nothing compares to the flavor of fresh-caught wild Salmon. This recipe dresses our favorite fish with a pecan oil marinade. The fish is then grilled to perfection and topped with a crunchy homemade pecan butter. The nutty flavors highlight the salty salmon, while the rich oils create a perfect texture.
2. Pecan-Crusted Venison Steaks
If you are fortunate enough to know a hunter, but not sure what to do with your venison, this recipe is perfect for you! Venison steaks are coated in a thick crust of pecans and fried in pecan oil. The dish is then topped with a rich mustard sauce to finish. This hearty meal is perfect at the height of deer hunting season, when the weather is cooler and people crave a heavier meal.
3. Roasted Cauliflower With Pecan Oil
The rich flavor of pecan oil pairs beautifully with the creamy, nutty sweet flavor of cauliflower in this recipe. This easy recipe is perfect as a side dish or served on top of a bed of your favorite greens for Meatless Mondays. Simply roast a head of cauliflower in pecan oil and black pepper for 30 minutes and you are ready to eat! You'll be surprised at the decadence of this simple recipe.
4. Marinated Cheese
If you are looking for a delicious appetizer or a unique starter course for an upcoming event, try this sweet-savory marinated cheese recipe. Manchego and parmesan cheeses are marinated in a mix of pecan oil and champagne vinegar dotted with pink peppercorns and a healthy handful of rosemary. Let the flavors mix and marinate and serve to impressed guests! For some other great ideas on how to use pecan oil, check out
this blog from Katy Had A Little Farm
she lists several ways to use pecan oil like drizzling it over fresh fruit or popcorn or mixing it in a soft cheese. So no matter what your palate, you can find great uses for our pecan oil. Try it today!