Posted by wernuts2 on 24th Feb 2017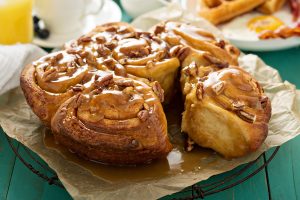 Brunch is a favorite meal for so many reasons. It takes the best of breakfast and the best of lunch and makes a long, perfect meal to enjoy with your friends and family. If you are planning on hosting a brunch or are looking to bring a dish to a friend's brunch, you may be wondering what to make.
We've collected some amazing brunch recipes that will give everyone reason to love pecans for brunch.
For a deceptively healthy start to brunch, consider making pecan pie baked oatmeal. A mix of warm spiced oatmeal, topped with delicious whole pecans can be made in advance and reheated easily the next morning. Even though it's made with healthy oats and pecans, the flavor is so amazing, everyone will think they're eating dessert!
Pecan sticky buns are a perfect dish for brunch, however they can be a little cumbersome to make. That is, unless you use our easy pecan sticky buns recipe. All you need is 5 ingredients and 5 minutes of preparation time. Then just put them in the oven for 35 minutes and you'll be ready to serve warm sticky buns everyone will love.
French toast is one of the most delicious brunch recipes out there. This praline pecan recipe takes French toast one step further by drizzling the incredibly combination of brown sugar, maple syrup, and pecans. The best part about this recipe is like the baked oatmeal, it can be made the night before.
For a recipe that combines two Southern favorites, this pecan sweet potato bread is perfect. It's super easy to make and is a perfect complement to a good cup of coffee. If you are bringing a dish to brunch, consider baking this bread in a hostess pan and wrapping it in a bow with a serving utensil. You'll impress your host with both a thoughtful gift and your culinary skills. These are just some of the great recipes you can make for brunch with Natchitoches Pecans. For other brunch ideas, check out our other favorite pecan recipes on our blog, as well as, some of the great hosting ideas in the Gathering of Friends book series. No matter which dish you choose to serve at brunch, everyone will be impressed with the wonderful flavor of pecans.