Posted by wernuts2 on 23rd Feb 2018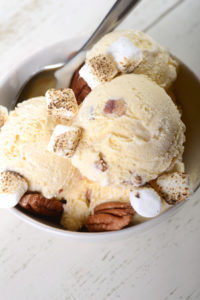 No matter the season, it's always a great time to enjoy some Louisiana pecans. From snacking to pies and beyond, there are plenty of ways to enjoy them, too. But look beyond the basic, time-honored ways to eat and you may be able to find some unique, fun ways to use Louisiana pecans this year. If you're unsure of just what options you have, take a look at some of the ones we've put together below. They're not just delicious - some of the recipes are perfect for creating with the family.
You'll get memories and great tasting food.

•
Ice Cream
- If you have a home ice cream maker, you can use it to create stunning butter pecan ice cream by using fresh
Louisiana pecans
. But if you don't, you can still add them as a topping to virtually any flavor and end up with an even more delicious, sweet treat.
• Asian Dishes
- Peanuts have long been used in Asian cooking, but what about pecans? They work very similarly, and instead of adding peanuts to kung pao chicken or other similar recipes, throw a few pecans into the wok instead!
• Cookies
- Everyone loves a cookie, but why not try out a totally different take on them? Use pecans in any recipe that calls for nuts and you'll get a great tasting cookie that will be unique and delicious.
• Meatloaf
- That's right, meatloaf! You already know that using breadcrumbs is part of creating a delicious meatloaf. But instead of the traditional approach, spice things up by using crushed Louisiana pecans or pecan meal. It'll change the entire taste in a big way. These are just a few options. Think creatively and be sure to use fresh Louisiana pecans, and you'll be creating dishes and snacks that everyone will enjoy.