Posted by wernuts2 on 7th Jul 2017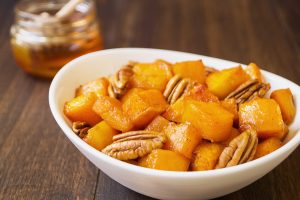 It's no big secret that pecans are a delicious, nutritious nut that can bring plenty of taste to a recipe and that can also deliver lots of nutritional benefits as well. But believe it or not, there are still a few things worth remembering when you buy, eat, and cook with pecans.
These tips can help ensure that you get the most enjoyment and the most health benefits from your pecans.
Buy Smart
Know what you're going to use your pecans for. Cracked, whole, and other types of the nut will all be better for different uses. Even pecan meal is available to make it easier for you to create delicious recipes from scratch. No matter if it's cracked, in-shell, or something else, think about what you're using them for and buy the right kind.
Find The Right Recipes
Different recipes call for different steps and different ingredients. If you're looking for heart-healthy recipes or weight-loss results, you may want to focus on recipes that don't rely on huge batches of sugars or salts. The sweetness of Louisiana pecans is enough that you'll get plenty of deliciousness without adding those extra sugars.
Balance Your Life
They are great for your health, but if you're really trying to make positive health changes they can't be the only thing that you rely on. Add them as a part of a healthy diet and continue with plenty of exercise. Build a total life plan for better health, and you'll find better results. Pecans are just one part of it, and while their heart health benefits and weight loss benefits can be incredibly important, you still need to create a total life-plan for real results.