Posted by wernuts2 on 26th Oct 2018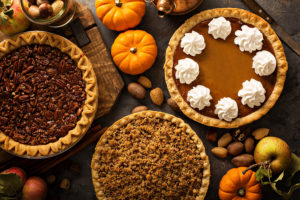 Thanksgiving is a time when the nation comes together and reflects on the good fortune to live in one of the most bountiful and productive countries in the world. Americans are lucky to be here, and
Thanksgiving is the traditionally the time of year when we stop, and, as a single country, acknowledge the privilege to be in this place, in this time of our lives.
It's also a time when we celebrate living in a land of plenty, and take advantage of the many wonderful foods that are available to us here. Of course, turkey is going to be on the menu for many families—and for many days afterward—but a Thanksgiving holiday is not defined by turkey alone! There are going to be plenty of other foods, drinks, and snacks that are enjoyed throughout this time, and another perfect, American culinary complement is having Louisiana pecans available for everyone to enjoy.
Another Great American Tradition
Pecans are even more American than apple pie, and just as American as turkey and corn on the dinner table, even if they don't get quite the same cultural coverage. Like turkey and corn, pecans are 100% native to this part of the world, and they were here before the first colonies were! So if you're looking for a delicious treat or snack this Thanksgiving that's even older than the American traditions we hold dear, think about buying some Louisiana pecans for your celebrations. November's going to be here faster than you might think, so it's always better to be prepared! Bring some pecans to your Thanksgiving and let the distinct, rich taste of these nuts be a part of your celebrations.
The Louisiana Flavor
You can get Louisiana pecans in a variety of different ways. If you'd prefer them as naturally as possible, you can enjoy them still in the shell. Or if you prefer something a little easier, pecan halves are also available, as are "cracked" pecans, if you want them in the shell, but easy to get out. We can even help you make some wonderful desserts and pastries with pecan meal as a unique substitute for some of your more traditional baking recipes. And, of course, pecans are also available in sweet, tasty, candied forms like pralines, and other recipes. And if you're not big on making these yourself, don't worry, we are! Whether it's in a more natural, tasty, raw form, or as something already lovingly created and baked by us, we can give you the Louisiana pecan taste you want for Thanksgiving. And if you want to try some of that pecan magic for yourself, try ordering our pecan meal and see what you can do with it in your baking! Don't let your Thanksgiving go by without enjoying one of most natural, 100% American treats. If you're going to have turkey and corn at your Thanksgiving table, remember to make some room for pecans, and let Natchitoches pecans be the ones you pop into your mouth this season!