Posted by wernuts2 on 28th Oct 2016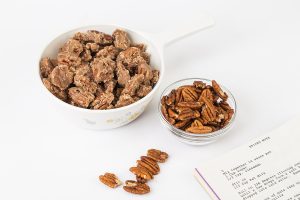 With the holiday season coming up soon, the stores are already filled with the traditional holiday treats from the fun pumpkin shaped lollipops to the refreshing flavor of candy canes.
However, if you are looking for something special for your holiday events, we'd recommend grabbing a few of our mouth-watering pecan candy treats this year.
A Large Variety Of Tasty Treats
With 10 different pecan candy choices, you are sure to find the perfect pecan treat for everyone. Is your aunt a chocolate lover? She'll love our chocolate praline pecans. Have a cousin with a sweet tooth? Try wrapping them up a bag of our honey pecans for their taste buds. Want a healthier snack option for the kids? Natural pecan halves are delicious and you won't have to worry about the sugar rush. Our pecan candy choices include:
Chocolate Pecans
Natural Pecan Halves
Chocolate Praline Pecans
Gran Marnier Chocolate Pecans
Old Fashion Cane Pecans
Rum Pecans
Cinnamon Pecans
Dark Chocolate Pecans
Honey Pecans
Healthier Sweets For The Holiday Season
Pecan candies are an absolutely delicious treat that are a perfect and healthier alternative to the average sugar filled holiday candies you find. Pecans alone have tons of great health benefits including to reduce the risk of stroke, heart disease, joint problems, and other chronic conditions. Combining those wonderful health benefits with the sweetness of chocolate, cinnamon, or honey makes for the perfect holiday treat for the whole family to enjoy.
The High Quality Pecans You Can Trust
Here at Natchitoches, we only use the freshest and highest quality pecans for all of our pecan treats and sweets. Whether you are just getting some plain shelled pecans or want a delicious bag of our cinnamon pecans, you can rest assured that you are always getting the best of the best with every purchase.