Posted by wernuts2 on 15th Dec 2017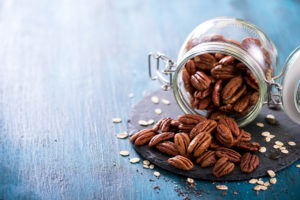 When most people think of pecans, they only think of one thing - pecan pie. And while that is certainly a delicious option, the fact is that there are plenty of other ways to enjoy pecans. Cracked pecans in particular offer lots of opportunities, since they're already shelled and cracked and ready to go into whatever recipe you're using. But do you know how to use them?
If you're still stuck on just eating fistfuls raw or using them in a pie, that's fine - but here are a few other ways to get even more enjoyment from them:
• Grinding cracked pecans into a finer form allows you to use them as breading for fried chicken, fish, and even pork chops. Just dip the meat into an egg wash, press into the pecans, and fry in light oil.
• You can also use ground cracked pecans as a filler in meatloaf or even burgers, giving these traditional staples a nutty flavor that adds something unique to them.
• Cracked pecans can be perfect for breakfast, too. Mix them into pancake or waffle batter to elevate their sweetness with a little something extra, or just mix a handful of pecans into yogurt or cereal if you're in a hurry. • Pies aren't the only dessert that cracked pecans can be used for.
Try adding them to ice cream or to a cake to give your favorite sweet treats something special. And of course, you can always make or buy candied pecans or things like pecan pralines. • Pecans are also a perfect topping for salads and with the right dressing and a bit of fruit can really turn a boring salad into something special.
• You can also use pecans to add crunch to certain soups, replacing croutons with something a little more unique. And these are just the basic options - everything from goat cheese and pecan stuffed peppers to seafood dishes with pecans are out there waiting for you to try.
The only real limit is your creativity and your culinary prowess, and with a little experimenting, you may be able to create a stunning new pecan dish that your family will rave about for years to come. Simply put, cracked pecans make a perfect addition to any kitchen, since they let you not only turn to them when you want a light, deliciously healthy snack but also when you're looking for a unique ingredient for a recipe and aren't sure what to use.