Posted by wernuts2 on 16th Dec 2016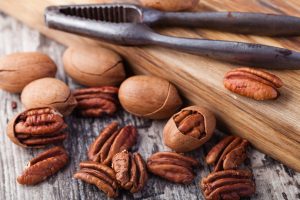 Decorating your Christmas tree, writing a letter to Santa, and baking cookies for your friends are all some of the wonderful holiday traditions we enjoy every year. Another great holiday tradition is eating pecans. Pecans have a long history with Christmas and are a perfect addition to your holiday menu and to give as a gift.
Season Of Pecans
All nuts are seasonal to the winter time. In the old days before modern preservation methods, nuts were a delicious and filling food that would get families through the winter. So people would give and receive nuts to those they loved. In Europe, one Christmas tradition is for families to go out and hunt for nuts together in the snow and then gift them to the people they love. In Elizabethan England, families would throw nuts out in the streets on Christmas and children would compete to see who get the most nuts.
Santa And Pecans
Pecans are also linked to Santa himself. On Saint Nicholas Day, December 6th, Saint Nicholas, otherwise known as Santa Claus, would scatter nuts among the countryside to ensure everyone was fed through the holidays. To this day, people celebrate Saint Nicholas day by scattering nuts for others to find.
The Nutcracker
What holiday mantel is complete without a gorgeous wooden nut cracker and a bowl of nuts? Nutcrackers date back nearly five hundred years and have been given as gifts at Christmas time along with a bag of nuts for centuries. Nutcrackers carved into various soldiers, royal figures, and jesters, were used as a fun conversation while guests would linger over a dessert of unshelled nuts. Pecans have a long history with Christmas, so they are the perfect indulgence for the season. Whether you follow old Christmas traditions and give them as a gift or just enjoy a bag for yourself, you should check out the wonderful offerings at Natchitoches Pecans. We have gorgeous gift tins that make stunning Christmas gifts as well as the finest Louisiana pecans that are perfect for your holiday table.