Posted by wernuts2 on 5th Jan 2018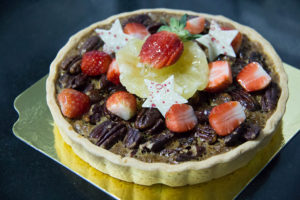 It's no secret that holiday gift giving isn't always easy. Figuring out that perfect gift for someone who is hard to buy for can be difficult. But one option that is worth taking a look at is the gift of Louisiana pecans. Louisiana pecans stand out as a great gift for plenty of different reasons, and no matter what type you're giving, they're worth having.
Take a look at some of the main reasons they shouldn't be ignored this year:• Healthy
- Pecans are packed with minerals and vitamins and are a great source of dietary fiber as well. They can help with digestion health, cardiovascular health, and serve as a perfect snack for when you're focusing on healthy eating. And for that special someone, giving them a healthy gift is a great alternative to sweets and greasy chips. •
Versatile
- Louisiana pecans are one of the most versatile nuts you can have. They're great as a healthy snack, but they are also instrumental in so many different recipes. Pecan pie is the obvious one, but they can be used as catfish or chicken breading, cake toppings, mixed into cereal and ice cream, and so much more.
• Plenty Of Options
- You also have numerous ways to give the gift of Louisiana pecans. Raw or shelled pecans are the most common, but there are
gift tins of candied pecans
and a wide range of other options. No matter what that special someone would be interested in, there's a pecan gift that will match up to them perfectly.
• Unique
- Everyone expects things like ties, shirts, or electronic accessories during the holidays. But a surprising gift can stand out and be far more memorable. Louisiana pecans are a gift that will surprise and delight, and one that won't disappoint.
If you're looking for a perfect gift that makes it easy to impress, think about giving someone Louisiana pecans this holiday season. They're sure to be surprised, and sure to love it. No matter the type of taste buds they have, pecans will satisfy and get you a thank you.