Posted by wernuts2 on 24th May 2019
With the holidays several months out, it may be in your best interests to start looking ahead to the upcoming holiday season and start etching away at your holiday gift lists for the year. Cane River pecan samplers make the perfect gift for Christmas or any other holiday or celebration coming your way.
Pecans offer a nutritious and delicious alternative to other gifts, and it is definitely not a gift that will end up in the back of a closet collecting dust.
Choosing Your Pecan Gifts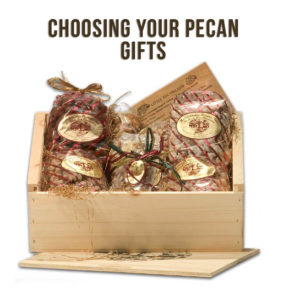 From samplers to gift boxes and more, there are several pecan gifts you can choose for your loved ones. A Cane River Pecan sampler, for example, makes the perfect personal or even professional gift. The Cane River Pecan Candy Sampler is a one pound tin containing Cane River pecans in some of the most popular flavors including chocolate pecans and cinnamon spice. Whether you are buying a gift for a nut lover or a chocolate lover, you will find exactly what you are looking for.
Why Look Ahead?
So, why start looking ahead when thinking about purchasing pecan gifts for birthdays, anniversaries, and holidays? Always check into what the shipping deadlines are so you are guaranteed to receive your gift in the mail in time for that special occasion.
Why Pecans?
Pecans are a healthy and thoughtful gift. Birthdays, holidays, anniversaries, and even housewarming celebrations are the best venues to give one of these delicious gifts.
End the Cycle
It is time to end the cycle of bad gifts and shy from bad gift giving habits. Despite our best efforts, it is common for us to take the wrong turn and give a bad gift that will go unused and unappreciated even though the thought, of course, still counts. Pecans make a delicious, practical gift that will be appreciated. It can be hard to find a practical gift that isn't too basic like clothing or other impersonal items. Choosing a Cane River Pecan sampler is the best way to celebrate without making the usual gift buying mistakes. You are also showing you have an interest in their health and well-being because pecans are a very nutrition packed food. Where can you go wrong?