Posted by wernuts2 on 8th May 2017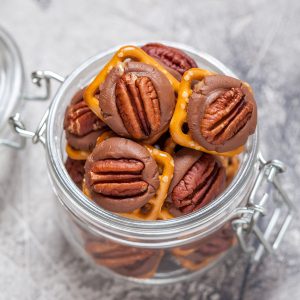 We all have that certain someone who is impossible to buy a gift for. Whether they seem to have everything or we just aren't sure about their interests, finding a great gift for some can be harder than it seems.
Luckily, one solution is to buy Louisiana pecans and give them a gift that's as delicious as it is unique.
If you're not sure that pecans are a great gift for someone, let's take a quick look at some of the main reasons that they're a perfect choice for any occasion - and for anyone. Once we do, you'll likely see just why these nuts are a great choice of gift.
Delicious – Few snack foods can math the deliciously nutty taste of pecans. And while they're great on their own, they can also be used in numerous recipes and candies.
Nutritious – You can give pecans without feeling guilty, and will be giving them a gift that can actually lower their cholesterol and improve their overall health. How many other gifts can lay claim to those effects?
Plenty of Options – Chocolate covered pecans, pecan pralines, roasted salted pecans, and raw pecans are just a few of the numerous options that you have when buying pecans. Just find the option that you think that special someone will like, and you'll have it quickly. There really is something for everyone.
Perfect For Any Occasion – From Father's Day to Easter to Christmas, pecans aren't tied to one season or one holiday. You can give them on any occasion, for any reason – including 'just because'.
Unique – In a time when gift cards are all too common and when everyone seems to be getting electronic devices or accessories, why not give something truly unique that they'll actually remember? Pecans are delicious and nutritious, but they're also great for actually giving a gift that will be appreciate far more than a new smart phone case or a tie.
In short, Louisiana pecans are a great choice for anyone. If you're struggling to find a great gift, look no further!