Posted by wernuts2 on 14th Apr 2017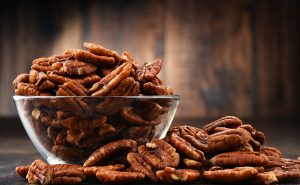 You are what you eat, or at least that's how the old saying goes. But the fact is that sometimes it's not always easy to eat as healthy as we would like. Luckily, there are plenty of shortcuts out there that can make it easier to snack healthier – and
Louisiana pecans
are a perfect example of this.
And while snacking on a fresh roasted bag of Louisiana pecans is a great way to enjoy these delicious nuts, it's also easy to incorporate them into numerous recipes ranging from pancakes to crusted catfish and beyond. The deliciousness is the main reason so many people enjoy pecans, but the health benefits are well worth looking at as well – and can show you why they're a snack that can be enjoyed anytime without guilt.
Just take a look at some of the main health benefits offered by Louisiana pecans to see what we mean:
Pecans are filled with vitamins and minerals. They contain vitamin A, vitamin E, calcium, phosphorus, zinc, and more. Those looking for plenty of nutrition in a snack will find it when they munch on a handful of pecans.
Pecans also provide a huge amount of fiber – one ounce delivers 10 percent of the daily recommended intake allowance. Fiber helps promote better digestion and improved nutritional absorption.
Studies have found that pecans can help to improve weight loss as well. By improving metabolic performance and help the body feel fuller faster, nuts can reduce the amount that you eat and help the body burn the fats you ingest more efficiently, thus helping you reach whatever weight loss goals you've set.
Finally, studies have found that eating pecans can actually help to lower cholesterol levels, improving overall cardiovascular health and improving your heart's wellbeing. In fact, the American Heart Association has even given pecans the 'heart healthy' designation, complete with their official symbol of approval.
The bottom line is simple – Louisiana pecans are delicious, but they're also incredibly healthy and easy to add into a nutrition plan without guilt. If you're looking for a great way to improve your health, pecans could be just what you need.