Posted by wernuts2 on 20th Dec 2017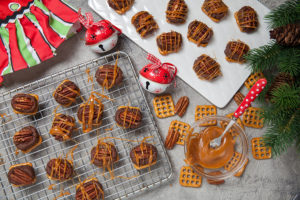 With the holiday season here, everybody is going to be extremely busy, and so are we! For many Americans, this is the biggest family event of the year, as people come from far and wide to celebrate the holidays, and maybe even ring in a New Year together. That means a lot of preparations are going be made, and schedules are going to fill up with all the things that need to be taken care of. Gifts, in particular, are one of those items that need checking and double checking, whether it's a spouse, a child, or even a friend, neighbor, a co-worker, or anyone else we think fondly of. If you think someone you know would enjoy pecans for the holiday season, you still got a chance to get that gift!
Prepared For Your Pecan Needs
Natchitoches Pecans has been getting ready for one of the busiest times of the year, so that if you're in a rush and a little worried about checking everything off your list, you don't have to worry when it comes to us. If you're in the neighborhood, our store on LA Hwy 1 is now open six days a week, Monday to Friday, from 9am-5pm, all the way up to December 23rd! That gives you plenty of time to come down, enjoy the charm of our wood cabin "general store", and stock up on the pecan products for yourself, your family and friends, straight from our crops! But even if you don't live in Louisiana, you're still in luck! Natchitoches Pecans has been in the mail order busi-ness for years, and our first website went online way back in 2000! Since then, our ability to handle orders from customers all over the USA has only gotten better and better with each passing year. New advances in online ordering, security, and privacy mean that once you've found the perfect pecan gift, you can order it with maxi-mum convenience and safety. We'll send it to you straight away, you can get all your pecan shopping done right from your home or even in your favorite café or restaurant on your phone.
All The Variety You Need
Our Natchitoches Pecans come in more than just the traditional nut in a shell. We've taken pecan harvesting and processing to the next level, with a huge range of options to suit you and your gift needs. If you want some-thing that's traditional, we've got pecans still in their shells. For people that are looking for something a bit more convenient, we have pecans that have already been shelled so you can just dig in! And for the people that are looking for something a little bit different, we've got pecans to suit your style! Our pecans can come in meal form, for people that want to try some culinary or baking experimentation. But we al-so have pecan candy, and pecans thoughtfully packaged in gift boxes and other packages, ready to go! But remember, you only got until December 15 to place your online order!