Posted by wernuts2 on 20th Apr 2018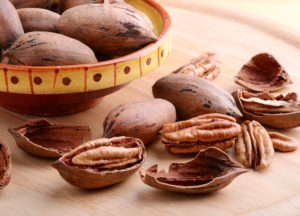 Everyone knows there are several types of apple. All you have to do is head to a grocery store and you'll see half a rainbow of apple colors stacked next to each other. However, what you might not realize is that what's true about apples is just as true about every other type of plant we cultivate.
You can find dozens of pecan varieties out there, and the Natchitoches orchard features several tasty varieties we offer customers looking for some Louisiana pecans.
Louisiana Pecans - Desirable
The Desirable pecan lives up to its name by being one of the most famous and widely cultivated pecan variety in America. If you close your eyes and picture a pecan in its shell, chances are good you're thinking of a Desirable. In fact, they're so popular that over half our orchard is dedicated to Desirable pecan trees.
Elliot
The Elliot variety started out with a single sapling raised by a lumberman in the Florida panhandle. Elliot trees are good at resisting diseases and their nuts are golden and buttery, making them a premium variety throughout the Southeast. It's rare to see them as far west as Louisiana, but they taste so good that we had to have them for the Louisiana pecans we offer.
Stuart
The Stuart pecan got its start in a Mississippi town in the late 19th century. For a while, it was the most common pecan out there, but newer varieties have eclipsed it by offering thinner shells with thicker kernels, resisting diseases and damage better, and demanding fewer years of care before they start producing nuts. Still, newer varieties have their own downsides, and Stuart pecans are so consistent that orchards like ours make sure to keep a few trees around.
Candy
Candy pecans aren't sugar-coated in the shell, but thanks to their smooth texture and strong flavor they're great for confections, pies, and candies. Their trees are also easy to raise and deliver plenty of nuts with each harvest, so while the kernels aren't as big as other varieties we still have a good reason to keep them around. Aside from the varieties we cultivate, Louisiana pecans offer slightly different flavors than the ones grown in Florida and Georgia thanks to the different soils you find around the Mississippi River basin. And if you wonder whether you can taste the difference yourself, there's only one way to find out.