Posted by wernuts2 on 8th May 2014
May in the pecan orchard at Little Eva Plantation is abuzz with the orchard in full pecan bloom. There is nothing quite as beautiful than looking through the lush green of the pecan trees and the orchard floor this time of year. The pecan bloom for 2014 looks to be good. Most of the pecan trees have lots of catkins on them.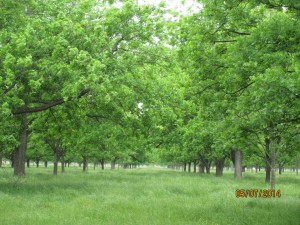 Pecan orchard in pecan bloom at Little Eva Plantation
Pecan trees produce two kinds of flowers. As a rule, the two types of flowers do not mature at the same time, so a tree usually cannot fertilize itself. So it is very important to match varieties in an orchard that can pollinate and fertilize each other. The catkins (male flowers) appear as long strings hanging from the limbs and release pollen. When the wind blows in gusts we have observed "yellow dust clouds" coming from the tree.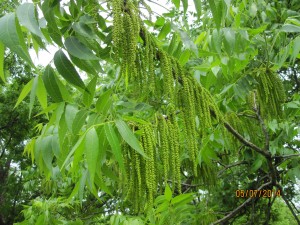 The pistillate (female flowers) appear at the end of the pecan shoots. Stigmas on the female flowers are receptive to pollen when they are glossy. They are past receptivity when they begin to dry and turn brown. Not all female flowers will become a mature pecan. They may fall off if not pollinated or be aborted by the tree during stress periods such as heavy crop load or drought before reaching maturity.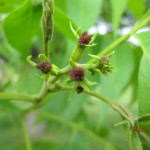 Tiny female flowers past receptivity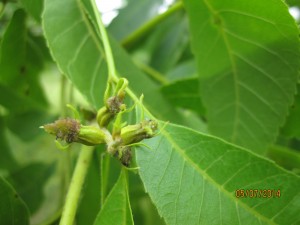 Receptive female flowers
Stay tuned for updates on the current pecan growing season...another year as a pecan grower and I am still finding myself becoming " nuttier than ever".