Posted by wernuts2 on 1st Nov 2017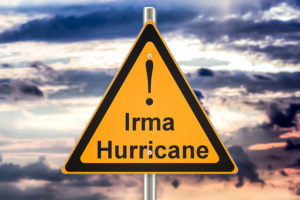 As you likely saw on the news, Hurricane Irma recently ravaged the United States. It caused mass flooding and disruption to the lives of many in Florida and other southern states. Some of those states, particularly Georgia, had their pecan harvests decimated by the storm.
The University of Georgia Extension said that Irma was "the most damaging wind event ever seen by the Georgia pecan industry."
Georgia Hit The Hardest
Georgia is the #1 pecan grower in the United States. The crop is typically harvested around this time, which means Irma's timing could not have been worse. Reports have differed on just much of Georgia's pecan crop was lost because of the storm. Some reports estimate that 30% of the crop was lost, while State Agriculture Commissioner Gary Black estimates that the number is as high as 50%. Pecan pods were blown off the trees due to high winds, bruising the pods as they were thrown to the ground. In some cases, entire trees were blown down, ruining future harvests for farmers. R.G. Lamar, who runs Lamar Pecan Company in Hawkinsville, GA, lost 920 trees and about 20% of his crop. He told Bloomberg News, "I was heartbroken. You work so hard to try to keep the orchard in good repair. I've seen wind that strong, but never sustained for that much time." Jeb Barrow, president of the Georgia growers group, said: "This storm, it's like it was targeting pecan orchards."
The Devastating Effects
A pecan tree can produce for decades, so losing trees in the storm is particularly devastating. In fact, some of the trees lost because of Irma were over 100 years old. This production is not easy to replace; unfortunately, trees will not begin bearing a crop until five to seven years after they are planted. The fact that farmers lost trees is not only devastating for this year, but for years to come. Considering that Georgia accounts for 30 to 40 percent of the nation's annual pecan output, you can imagine the effects that the storm's aftermath will have on the entire nation.
Buy Your Pecan Gifts Today
Pecans make for a great gift during the holiday season and are the staple of many holiday dishes. Considering the holidays are quickly approaching, its best to buy pecans and pecan gifts sooner rather than later. Louisiana pecans were not impacted by the hurricane, and are as healthy and delicious as ever. But, a shortage in other states means that they'll be a decrease in supply and an increase in demand of pecans this fall and winter. Buy pecans today before the prices begin to rise.