Posted by wernuts2 on 22nd Feb 2019
Pecan gift baskets take a tasty approach to the average gift. For Valentine's Day, birthdays, Easter, or any special occasion, pecan gift baskets provide real variety in a tasty snack they can enjoy in many different ways. Our pecan gift baskets come in tins, boxes, and customizable options, so they know that your gift was given straight from the heart. What goes into our pecan gift baskets? That decision is up to you! Our most popular of our pecan gift baskets is none other than our
Clementine for the Holidays Gift Box.
This box includes two gourmet pecan log rolls, two pecan fiddlesticks, a 12oz bag of cinnamon spiced pecans, a 12oz bag of natural pecan halves, a 12oz bag of chocolate pecans, a 12oz bag of old fashioned cane pecans, and a wooden recipe card filled with inspiring ideas for your new pecan gifts. This box is inspired by world famous Louisiana folk artist Clementine Hunter and the hand chosen selections feature some of her favorite treats. What this box offers is 6 different ways to experience pecans, and therefore experience a taste of authentic Louisiana.
If you're not sure just what pecan gift baskets to treat your loved one to, this is a great mix of a bit of everything.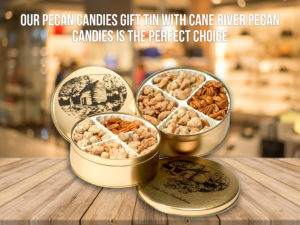 If you're looking for a smaller taste of Louisiana through pecans, our
Pecan Candies Gift Tin
with Cane River pecan candies is the perfect choice. This tin includes 4 different types of Cane River pecans: natural pecan halves, chocolate pecans, cinnamon spice pecans, and old fashioned cane pecans. The gift tin that contains the 4 varieties of Louisiana pecans isn't finished when the pecans are finished, and can be used over and over again to remind you of your Louisiana pecan experience. For larger custom orders, we have our
custom corporate gift boxes and tins
, which allow you to shape your pecan gift experience exactly how you want it. For impressing out of town customers and clients coming to visit your Louisiana location, or location anywhere in the United States, there is no better way than to offer a custom picked selection of classics from the American south. These can be ordered and customized online and shipped everywhere, so they make a perfect thank-you gift after a big meeting or sale. Pecan gift baskets let you treat the ones you love with a true taste of Louisiana history, providing a memorable gift they won't be able to get enough of.