Posted by wernuts2 on 31st May 2019
Whether you own a business or are part of a larger corporate team, then you have probably seen your fair share of gifts being handed out at corporate events.
With so many reasons to reward employees and clients, corporate event giveaways are becoming a popular promotional way to make sure people remember who you are and what you do.
Common Corporate Event Giveaways
Some of the more common items given out at these events include items with the company's brand name and logo. Pens, notebooks, calendars, and coffee table books are some of the more common items you will find at one of these events. However, there are so many other more delicious and memorable gifts that you can hand out at your next corporate event that will really set you apart from the competition.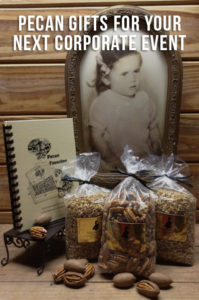 Buy Fresh Pecans Online
When you buy fresh pecans online, you are offering your employees, clients, and comrades a healthy and delicious alternative to the usual corporate fair. It is also a very affordable alternative that can go quite a long way. When finding good corporate event gifts, you always want to find gifts that people will actually use, and pecans are certainly a gift that falls into this category. Additionally, the gifts you choose should offer both originality and taste and should limit the use of brand messages and corporate logos. Why offer something as impersonal as a pen or notebook with the company logo on it when you can buy fresh pecans online and create a gift bag that everyone is sure to enjoy?
Incorporate Designs and Relevant Themes
Instead of the standard corporate designs and logos, choose a relevant theme and create your gift bags around that theme. Avoid being overly promotional. You want to set out to accomplish your goal of spreading your brand awareness without coming on too strong. Having the pecans packed away neatly in a gift bag with a simple design or company logo and some ribbons, for example, is a good way to accomplish this while also giving everyone a gift they will remember. In addition to fresh pecans, you can also choose from several other gifts including sampler tins, chocolates, pecan oil, and so much more. Choose a few of these tasteful items to create your gift bag or basket.
Finding the Balance
When coming up with gifts for your next corporate event, it is important to find the balance between originality and taste. Remember, branding, and the excessive use of logos can tarnish the gift and compromise its overall appeal for those that receive it. Keep it simple and delicious when you buy fresh pecans online for your next corporate event.