Posted by wernuts2 on 26th May 2017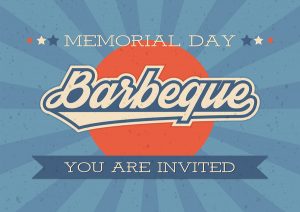 Memorial Day is coming soon and that means inviting all your friends and relatives over for a celebratory summer barbecue. Pecans are the perfect addition to your barbecue menu.
So if you are looking for some fun recipes for Memorial Day, check out our favorite summer barbecue recipes using Natchitoches Pecans:
There is nothing better than homemade barbecue sauce. This delicious sauce uses ground pecans to add a great flavor and texture that is perfect for brisket, ribs, or burgers. There is nothing this sauce doesn't taste great on, so make sure to give it a try this Memorial Day.
Salmon Topped With Crunchy Pecans
Grilled salmon is one of our favorite dishes, but topped with barbecue sauce and crunchy pecans and it takes it to a whole other level. You can make this recipe on the grill or in the oven, whichever is easiest. However, not matter how you make it, your guests will love it!
Shaved Cabbage Salad With Pecans And Creamy Feta Vinaigrette
Cole slaw is one of those standard barbecue dishes that people either love or hate. To ensure that everyone loves yours, we recommend upping your game with this shaved cabbage salad. It uses a blend of fresh shaved cabbage, spiced pecans, and sharp feta to keep the slaw light. This recipe is less a cole slaw and more a gourmet experience.
The Best Pasta Salad Ever (Really!)
Another traditional side dish served at a barbecue is pasta salad. Rather than just grabbing a tub at your local deli counter, consider making this easy and delicious pasta salad. A mix of your favorite shaped pasta, pecans, grapes, and bacon, there's nothing to not love in this great salad. So skip the counter and make this easy recipe your guests will love.
Grilled Cinnamon Peaches With Pecans And Ice Cream
Dessert is often overlooked at barbecues, but once you try this grilled peaches, it will always be a featured favorite. Simply grill the peaches,
top with your favorite candied pecans, and top with your favorite ice cream. Easy, delicious, and a perfect recipe for pecan lovers! With these barbecue pecan recipes, you'll be able to impress your Memorial Day barbecue guests. For more great recipes to impress your friends and family using Natchitoches Pecans check out the recipe section of our website or subscribe to our blog
!