Posted by wernuts2 on 2nd Mar 2018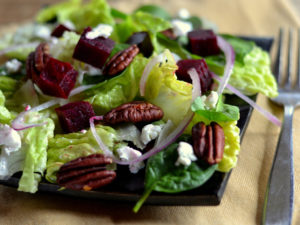 To many people, when they hear the word 'pecan', they think of only a couple of things - pecan pie and pecan praline. And while there's no doubt that those two desserts can be among the most deliciously tantalizing on the table, pecans can be used in a surprising number of ways that most don't think about.
Plenty of Americans are focused on improving their health through better dieting, and that often means cutting out sugar and sweets. Luckily, they are as healthy as they are delicious and it's easy to add them to your kitchen without worry. \They're packed with protein, fiber, and antioxidants and could help promote better digestion and heart health. And thanks to their versatility, you can use them in many ways beyond just pies and pralines.
One of the big reasons that pecans are so versatile is the taste, but it goes beyond that.
During the process of harvesting and preparing pecans, they end up being packaged in numerous ways. Shelled, cracked, and split pecans are all available, as are
candied pecans
and even ground pecan meal made from small pieces and flakes left behind after processing. As such, you can buy pecans in numerous ways and then utilize them as you see fit. Here are some great examples.
• Use pecan meal or crushed pecans to bread chicken and fish. It provides a nutty texture that breadcrumbs don't provide.
• Similarly, spice up your meatloaf by mixing some meal into it instead of breadcrumbs. It will give it a unique taste that stands out.
• Pecans are perfect salad toppings, and sprinkling them onto your salad is a great way to add texture, crunch, and sweetness without those sugary dressings.
• Mixing pecans into cereal or yogurt gives you a healthier snack or a great breakfast.
• They're a perfect addition to chicken salad
• They can also be used in bread. Mix some into banana bread batter, for instance, to give it something special.
All of these options are great ways to use pecans. The bottom line is that they're much more than just a pie ingredient, and when you take the time to let your creativity flow you'll likely come up with numerous other ways to incorporate them into your recipes.
Think outside the box, and you'll give yourself some nutty treats that can be enjoyed at breakfast, lunch, dinner, or during your snack time.