Posted by wernuts2 on 1st Mar 2019
New England has its lobster, Maryland has its crab, and Louisiana has its pecans. Pecans in Louisiana are sought after by residents of all other states, and far across the globe, mainly due to how closely tied in pecans are with Louisiana's long and storied history. Louisiana is famous for its pecans, and renowned far and wide for some of the freshest, richest, and most flavorful pecans in all the world. When pecans in Louisiana are enjoyed, the person enjoying them gets an authentic taste of true Louisiana culture.
Without pecans in Louisiana, we may have no pecan pie, chocolate pecans, or pecan tarts to be enjoyed today.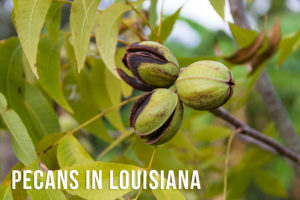 Pecans in Louisiana took off due to the prominence of the pecan trade during the 18th and 19th centuries. Native Americans in the region used pecans as a staple part of their diet, and traded pecans with French settlers who loved their nutritious composition and rich buttery taste. During this time,
New Orleans was a major world port in the United States, and the selling of pecans began taking off across the United States of the time and around the world. Soon, pecans in Louisiana became in demand far and wide. While pecan trees are found naturally in Louisiana, the demand began to grow too high for what nature had to offer, and pecan orchards began popping up all over the state.
In 1846, a slave gardener discovered the secret to grafting pecan trees, a method that was used to single out and grow trees that only produced the highest quality of pecans. During this time, Louisiana began to really master the art of the pecan, and the yields coming from pecans in Louisiana just kept getting better and better. Pecans in Louisiana have only grown better since that time, and the demand for Louisiana pecans never waned. Just as it was during the 18th century, global demand for pecans remains high, and pecans continue to be used in desserts, diets, and cuisine across the world.
Pecans in Louisiana are one of the great culinary contributions that make up true American food, and there remains no better quality pecans than those grown in the Pelican State!