Posted by wernuts2 on 10th Nov 2017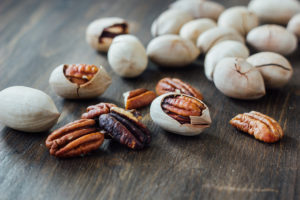 Pecans are a healthy snack option that makes the ideal substitute for other snack alternatives. Pecans are packed with many different vitamins and minerals, and they are also cholesterol free. All of this means that you can eat them by the handful while remaining guilt-free and full!
Portable Snack Option
Pecans are a portable snack option because they can fit easily and conveniently into a little bag and are small enough to fit in a pocket or lunch bag. They can be eaten on the go and will not make a mess. They will not leave any greasy residue on your fingers like you may see with other snack options such as chips or even French fries.
Healthy Alternative
Pecans are also a very healthy alternative and are low-calorie and packed with many different health benefits such as proving to be helpful in lowering inflammation levels, they keep your energy levels up, and can even help you lose weight. Pecans also make a perfectly portable breakfast if you do not have time to sit and eat before starting your day. You can even mix the pecans with some of your other favorite nuts or dried fruit to make a trail mix.
Louisiana Pecans
Louisiana pecans from Natchitoches Pecans offer a fresh and delicious variety of pecans and come in many different forms including candy pecans and even pecans still in their shells. There are also pecan pieces and spiced pecans as well. There is always some variety to keep you interested and coming back for more. Apart from being a perfectly portable snack that can be changed up daily, they are also a very delicious and nutritious option if you simply don't have the time to stop and eat but don't want to skip breakfast or a snack and be faced with decreasing energy levels throughout the day. For recipes, gifts, and other specialty items, visit the website today to see the many ways you can benefit from pecans when it comes to finding a good snack for any day and any occasion.