Posted by wernuts2 on 22nd Nov 2019
We all have those people on our holiday shopping list. The coworker we hardly know from the White Elephant, our distant cousin we only see once a year a family gathering, and the pickiest of picky family members. Shopping for the holidays is hard enough, but trying to get the right gift for the tough one on our list can be even worse. Luckily, we've got you covered!
Pecans Are The Perfect Gift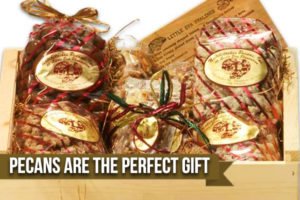 No matter who you are shopping for, pecans are a great gift option. They are healthy, delicious, and affordable. Whether you need to grab a gift for your mailman, your very particular aunt, or even just your best friend, you'll be sure to nail it with pecans.
The best part is that with our pecan store online, you don't even have to fight the holiday shopping crowds to get it right.
Great Options For Gifts
At Natchitoches Pecans, we have a variety of great gift options that are beautifully packaged and can be delivered to you or the receiver. Some of the options we offer are: ● Pecan Candies Tins: Presented in a beautiful golden display tin, we have hand selected our most popular pecan candies that anyone will love. ● Clementine For The Holidays: A beautifully wrapped selection of our most popular pecans presented in a wooden box with a keepsake wooden recipe card for pralines. ● Praline/Baker's Special: This gift pack includes a variety of our fresh pecans and a recipe book filled with traditional Southern favorites. This box is perfect for anyone who loves to bake in your life. ● Pecan Candies Foil Gift Bags: A selection of delightful pecan candies presented in festive foil packaging. This gift is ideal as a stocking stuffer, for a group gift, or when you just need something last minute. These are just some of the options that can ensure you get the right gift this holiday season. At Natchitoches pecan store online, we've got you covered for all of your holiday shopping. No matter who is on your list, you'll be sure to find the right gift for them. Don't forget we also offer the Clementine Hunter collection for all the art lovers on your list.