Posted by wernuts2 on 11th Oct 2017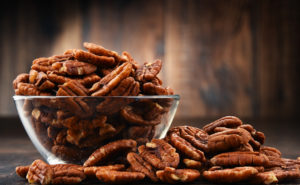 Pecan gifts are the best gifts that you can give, or at least we think so. We might just be a little bit biased, though, because we know how amazing they can make your life! When it comes to your list of gift receivers, start here and you'll be finished before the first frost is on the pumpkin.
For The Sweet Snacker – Praline pecan candies are the decadent way to indulge the most stringent sweet tooth you know. Made 2 ways: creamy goodness that melts in your mouth or chewy bliss that sets the heart on fire. And for the most serious snackers, a half-and-half combo is praline perfection. And The Salty Snacker – We all have the Uncle or Grandpa who would love to have an old fashioned bag of pecans to crack open while watching the big game. And we took all of the hassle out of it by pre-cracking them for easy opening. A 4-lb bag of cracked pecans is a true pecan gift of love. For Those Who Are Sugar-Free Fanciers – Thank heaven that there are sugar-free options when it comes to pecan gifts. Wrapped in a foil gift bag, choose sugar-free chocolate covered pecans, or sugar-free cinnamon glazed pecans for your low-cal pals. Just because they can't have sugar doesn't mean that they should miss out on one delicious nut. For Your Gluten-Free Girlfriend (or Guyfriend) – There are many people who suffer from celiac disease and that means that they cannot eat products that contain gluten without getting sick. Since gluten is found in wheat flour, that means no cakes, cookies, or pies. Thankfully, pecans are gluten-free, meaning that they can enjoy them salted, sweetened, or ground up and used as a flour substitute in baked goods. It's gluten-free, win-win for pecan gifts. For The Serious Baker – The baker likes to create dishes that are tasty and pretty, and we have pecan packages that meet both needs. For use in bread and baked good, pecan pieces are perfect. For a decorative touch, fancy shelled pecan halves make a stunning display on top of a cookie, cupcake, or pie. And pecan meal can be used in a variety of baked goods for a deeper flavor. For The Person Who Has Everything – Pecan gifts that go beyond the pecan and into pecan products. Avid readers would enjoy learning about the health benefits of pecans, chefs will delight in our pecan themed cookbooks, foodies will love a bottle of pecan oil for gourmet recipes, and those who love to crack a nut on their own could use an effortless nutcracker to make their lives easier.