Posted by wernuts2 on 2nd Dec 2016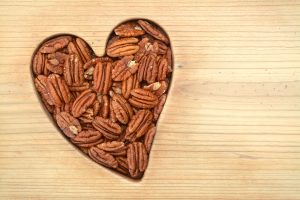 Pecans have a history that traces back all the way to the 16th century and has been one of the most valuable North American nut species. However, this shouldn't come as any surprise to anyone who has tasted this delicious treat.
With the holidays coming up, this versatile and tasty nutty treat is both a perfect gift and a great baked sweet to bring to the table.
Delicious and Nutritious
Not only are pecans tasty, but they have some incredible health benefits too. Pecans are wonderful for reducing cholesterol levels, lowering the risk of heart disease, and promote healthy cell regeneration. This is not only thanks to the pecan's high fiber content, but also due to the 19 different vitamins and minerals packed into every nut.
Cooking and Baking
Pecans aren't just a healthy snack to have around the house, they also can be baked and cooked into some mouth-watering treats too. Whether you chop them up and sprinkle them over a salad or bake them into a delicious pecan cake, you can't go wrong with pecans in the mix. In fact, you can even use pecan oil for a healthier cooking oil option.
Share Your Love of Pecans This Holiday Season
Here at Natchitoches Pecans, we believe these delicious and nutritious treat are perfect for sharing with your beloved family and friends over the holiday season. That is why we offer unique pecan gifts like our 9 different sugar pecan candies, savory pecan logs, holiday pecan gift boxes, or even just a bag of classic cracked pecans. No matter which of our pecan gifts you choose this holiday, your family and friends are sure to love this season. Just check out our Natchitoches Pecans website for all of our delicious pecan options and to learn more about why pecans are the perfect nut for the holidays.