Posted by wernuts2 on 1st Jun 2018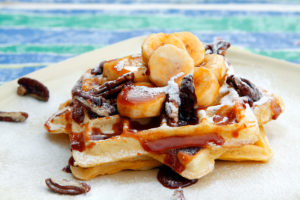 If you are looking for a healthy way to kickstart your day, add pecans to your breakfast. Pecans are loaded with healthy fats, protein, and energizing vitamins and minerals. Eating pecans for breakfast will give you all the nutrition you need to tackle the challenges of even your busiest days.
If you'd like to jumpstart your day, here are some delicious ways to add pecans to your breakfast.
Combining the two sweetest flavors of the South, these yeasted waffles are made with sweet potatoes and drizzled with a delicious caramel pecan topping. The best part about this recipe is you can make it the night before. Then in the morning simply pour the batter into your waffle maker and breakfast is served.
Similar to the flavors of Elvis' breakfast favorite, this combination of sweet bananas, salty bacon, and buttery pecans is a delicious treat. Simply whip up your favorite pancake recipe, add banana slices and bacon crumbles, then top with a pecan mix. Perfect for pecan lovers and bacon lovers alike.
We love making fresh sticky buns with our pecans, so when we found this recipe that adds a bit of that apple flavor, we were excited. Imagine topping an apple pie with your favorite pecan sticky bun. That's what to expect with this delicious recipe. We recommend serving this warm and adding a scoop of ice cream.
These sweet-tart muffins are a healthy and fruity way to start your day. Loaded with dried fruits and rich buttery pecans, you can make a batch on Sunday and have a delicious breakfast all week long. That is if you aren't tempted to eat them all in one sitting.
Coffee cake is a great option to make for family brunch or to bring into the office. This recipe is loaded with pecans, using them for both the topping and the filling. Crunchy, rich, and bursting with blueberry flavor, everyone will want a slice.
If you are looking for a way to make your breakfast a little fancy, try these cream cheese pecan danishes. The flaky pastry mixed with the creamy cheese and crunchy pecans are a textural delight. They are also deceptively easy to make! Pecans make a wonderful addition to any breakfast menu. Remember though, to truly bring out the incredible flavors of these recipes make sure to use only the finest quality Natchitoches Pecans. Our Natchitoches pecans are grown, harvested, and packaged right on site to preserve the buttery, smoky flavor. You will always get the freshest pecans available.