Posted by wernuts2 on 30th Nov 2018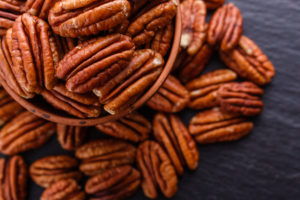 Cracked pecans are a great way to give a tasty, healthy treat to someone you care about, or even just have on hand for the visitors during the holiday season. If you live in Louisiana, especially if you live in the Cloutierville area, then maybe you already know that we're here to help you in this regard. And if you're just passing through over the next couple of months, or even just new to the area, then you're in luck.
We're here to keep you filled with all the cracked pecans you can handle!
Ready To Serve
Natchitoches Pecans is based right here in Louisiana with a verdant, abundant pecan farm ready to serve the needs of residents of the state, as well as Americans all over the continental USA that want the great taste of cracked pecans. However, if you're looking for the best way to experience our pecans, and you live in the area, we urge you to come on down and visit our store. From now, until December 23rd, our storefront, located right on our farm, is open from 9 am to 5 pm, Monday through Saturday.
In addition to the cracked pecans we have on offer, you can buy pralines, candied pecans, pecans still in the shell, and best of all, we have samples! But our wares go beyond just the pecans themselves. You can also buy related items like nutcrackers, cook-books, and a variety of Clementine Hunter inspired items like dinnerware, tea towels, and serving pieces. If you're looking for something a little special, we even have special pecan gift items, beautifully wrapped, or packaged in decorative tins. So if you want the ultimate pecan tasting and shopping experience, and you live in the area, come on down, and get the full pecan sampling and shopping experience with us at our store!