Posted by wernuts2 on 7th Sep 2018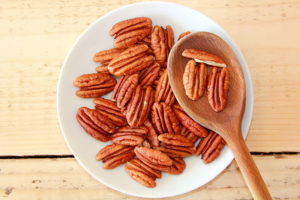 Louisiana Pecans are an ideal choice for topping foods, incorporating into recipes, or even snacking on alone. They have a rich, buttery flavor, which can cause a person's mouth to start watering by just thinking about them. Not all pecans are created equal though. Our pecan orchard is located on a segment of the historic Little Eva Plantation right here in Cloutierville, Louisiana.
Orders can be placed online, or if residents are in the area, they should feel free to stop by our retail store. We take pride in providing consumers with fresh, delicious Louisiana pecans. Some of our notable options include... • Fancy Shelled Pecan Halves • Pecan Pieces • Various Tins And Gifts • Candies • Pecan Meal So, whether you are a gourmet chef, an aspiring baker, or only looking for that special someone's perfect present, take a peek at the site as it has a little something for everyone. Don't put off your pecan cravings any longer. Instead, get your Louisiana pecans today and satisfy the hankerings.
Replace These Things With Pecans
1. Walnuts A lot of people top their brownies and cookies with walnuts. They give the treats a crunchy texture while also providing additional flavor. Louisiana pecans can become substituted for walnuts in equal measurements. Why make the change? Both nuts have similar nutritional properties, but pecans have a succulent taste that is perfect for giving the dish extra zip. 2. Flour Pecan meal, also commonly referred to as pecan flour, can be substituted in recipes for all-purpose flour. It is a suitable choice to use in cakes, cookies, pastries, waffles, pancakes, pastries, and more. Additionally, it can also replace bread crumbs for cooking endeavors. When experimenting with pecan meal, it is best to add a little bit at a time and then more as necessary. 3. Peanuts If you are out of peanuts or merely looking to change up a recipe, Louisiana pecans can prove to be the perfect solution. Of course, a person can leave the nuts out of the cookies, cakes, or cupcakes, but this action will cause the snacks to lose flavor and texture. So, consider incorporating the pecans into the mix to get the taste and crunchiness that you desire. Serve the goodies at a party, event, or function, and quickly become the talk of the attendees, but it is up to you whether you give up the secret ingredient or not.