Posted by wernuts2 on 8th Dec 2017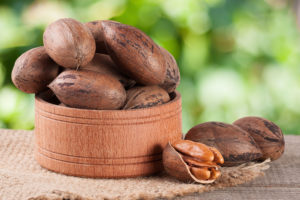 You already know how delicious pecans can be. Do you prefer yours salty and savory, or sumptuous and sweet? Maybe you like them plain, right out of the shell. We enjoy them in all possible ways, but some folks are sweet on the sugary side of
Louisiana pecans
and the most popular confection to ever come out of the south.
Fancy French Beginnings
Just in case you aren't sure what a praline is, think of a sweet, creamy, sugary treat filled with luscious pecans and you'll get the idea. Pralines are made from butter, brown sugar, cream, and pecans. They are one of the most popular traditional southern confections, but they came a long way to get where they are. Pralines were originally created in France by a man named Clement Lassagne who was the personal chef to a 17th Century diplomat named César, duc de Choiseul, comte du Plessis-Praslin. There are many versions of how and why Chef Lassagne created these sweet treats, made from caramelized white sugar and almonds, which he named after Praslin. The most famous story is that they were created for Praslin to give as personal gifts to woo the ladies of the time. Whatever the reason behind their sweet creation, praslins began to woo more than just the ladies. As more people tasted the praslin, the more popular it became and soon Chef Lassagne opened his own confection shop.
The Changing Of The Nut
It was when French settlers arrived in New Orleans in the late 1700's that the praline was modified and improved to become what it is today. Everyone knows how plentiful Louisiana pecans are, and the settlers wasted no time swapping out the almonds for these wonderful nuts to make their candy. Brown sugar replaced white sugar and a touch of cream was added to turn the praslin into the praline. By the late 1800's, pralines were everywhere in the French Quarter, becoming one of the most popular confections sold by street vendors.
Well-Known And Well-Loved
As the world moved on, pralines became available everywhere. They continue to be well-loved, and well-known today, whether they are created in a large factory, or a small candy shop. We even offer the authentic taste with creamy or chewy pecan praline options. You can find modernized versions that add chocolate, coconut, or even peanut butter to the creamy, pecan-filled treats. But if you ever get down to New Orleans, you'll still find them at shops who use the traditional ingredients like Louisiana pecans from recipes that have been handed down through generations. It's a sweet way to go back in time for a taste of the past.