Posted by wernuts2 on 3rd Aug 2016
There are a lot of different takes on the Paleo diet, but this quote from Wikipedia sums it up nicely: ...the "contemporary" Paleolithic diet consists mainly of meat, fish, vegetables, fruit, roots, and nuts, and excludes grains, legumes, dairy products, salt, refined sugar, and processed oils. Humans evolved millions of years ago in a much different environment than our own. The so-called Paleo diet takes its name from the Paleolithic period, which began when humans first started to use stone tools.
The theory behind the diet is that our modern pattern of food consumption contributes to obesity and chronic disease. By altering our eating habits to more closely resemble those of Paleolithic humans, we achieve weight loss and better health. Although the broad concepts behind the diet emerged in the 1970s, public awareness of the Paleo diet took off after Dr. Loren Cordain published his 2002 book, "The Paleo Diet." Now, millions of people adhere to Paleo principles when choosing the different foods they eat. The Paleo diet is based on the notion that for optimal health, modern humans should go back to eating real, whole unprocessed foods that are more healthful than harmful to our bodies.
Pecans are a very popular food choice among Paleo enthusiasts. This tree nut is high in polyunsaturated fats and contains manganese, copper, and thiamine. Of course, shelled pecans are delicious by themselves whether you eat them raw or whether you roast them in the oven for a few minutes. Try the recipe below and see just how delicious Paleo can be!
Paleo Candied Pecans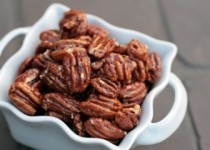 Ingredients:
pecan halves - 1 pound, about 4 cups

egg whites - 1

water - 1 Tbsp

raw honey - 1/2 cup, liquified (I set my honey jar in a cup of hot water to liquify)

ground cinnamon - 1 tsp

sea salt - 1/2 tsp
Preparation:
Preheat oven to 250º F.

Line a shallow, rimmed baking sheet with parchment paper.

Place egg white and water in a large bowl. Stir with a whisk until frothy (think bubble bath).

Add pecans and stir well with a wooden spoon until they are evenly coated.

Combine honey, salt, and cinnamon in a liquid measuring cup. Pour over nuts and stir well to evenly coat.

Transfer pecans to the lined baking sheet. Arrange in a single layer using a rubber spatula.

NOTE: Discard any leftover liquid that may be left in the bowl.

Bake for 60 to 90 minutes, stirring at approximately every 15 minutes.

Remove from oven and immediately transfer to a glass baking dish to cool.

NOTE: It is very important to remove the nuts from the parchment before they cool—they will stick.

Once cool, break into pieces and store in an airtight container at room temperature