Posted by wernuts2 on 2nd Feb 2018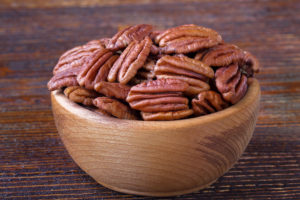 Pecans have always been a go-to nut when people want something that can really change the way that they snack or to liven up dishes. But while they certainly are delicious, did you know that
Louisiana pecans
also offer huge health benefits? It's true, and taking a look at some of the biggest health benefits that
Louisiana pecans
offer can help you see why they're well worth having in your kitchen.
Here's a look at 5 of the biggest health benefits they can provide.

1. Fiber - Pecans are packed with fiber - 10 percent of the daily recommended intake for just one ounce of the nuts. By eating them regularly you can help to improve your digestion. This can increase nutritional absorption and help with everything from weight loss to energy levels to overall health and wellness.

2. Antioxidants
- USDA research found that pecans have the highest levels of antioxidants of all the tree nuts available to you. This can help reduce and fight off the signs of aging in a big way. They're also in the top 15 foods for highest antioxidant levels overall.
3. Cholesterol
- Pecans are loaded with the healthy unsaturated fats the body needs. Just eating a few each day could help to reduce bad cholesterol levels and improve overall heart health.
4. Overall Nutrition
- Since Louisiana pecans contain over 19 vitamins and minerals, eating them can give you a big boost to your nutrition levels. They contain vitamins A, B, and E along with calcium, zinc, folic acid, and more.;
If you're looking for a healthy snack or an ingredient that works great in main dishes, desserts, salads, and even soups, look no further than
Louisiana pecans
. They're incredibly versatile, and making things even better is the fact that they can help increase your health in a huge way.