Posted by wernuts2 on 7th Feb 2018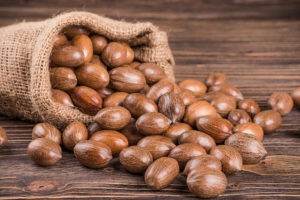 There are plenty of snack foods that can transcend just being a snack and become something more. Believe it or not, pecans are a perfect example of this and deciding to buy pecans and use them in your kitchen will be something that is well worth doing.
If you're not convinced or unsure of just what it is that pecans have to offer, take a closer look at a few of the big reasons to buy pecans.
1. Versatile -
Few other nuts can be used in as many ways as pecans. When you buy pecans, you can use them for main courses, salads, toppings for ice cream or yogurt, and much more. They offer some of the best versatility of any food on the market - nut or otherwise.
2. Delicious -
That versatility is largely due to the unique taste of pecans. Sweet, nutty, and still all their own, nothing else tastes quite like a pecan. Thanks to this, they stand out no matter how you're using them.
3. Healthy -
Pecans are also incredibly healthy. They contain high levels of fiber and antioxidants as well as vitamins and minerals, all of which can help improve your overall health and wellbeing. Best of all, you get these benefits while enjoying a delicious nut.
4. Perfect For Gifting - We all have those people who are difficult to buy a gift for. Whether it's a birthday, the holidays, or even valentine's day, sometimes just giving them a unique present is all it takes to get a smile. And few things can match the uniqueness of the gift of pecans. Whether it's a gift tin of delicious candied pecans or a bag of shelled pecans they can munch on throughout the week, they're a great choice for the person who has everything. These are just four reasons that it makes sense to buy pecans. They offer far more than some might think and are a perfect food for yourself or for anyone else. Simply put, they're worth buying.