Posted by wernuts2 on 9th Feb 2018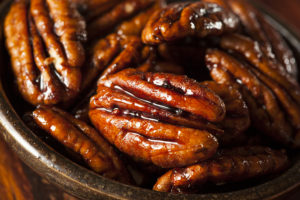 No matter what the occasion may be, we all know at least a couple of people who are impossible to buy a gift for. Whether they have it all or claim that they want nothing, what do you do to put a smile on the face of these difficult gift recipients? One option that is worth thinking about is pecan gifts, and if you're looking for a perfect way to give someone a gift they'll love but never see coming, look no further.
Pecan gifts can include virtually anything, including options like:
• Cracked pecans
• Roasted pecans
• Candied pecans
• Pecan pralines
•And more
And with so many different options, it's easy to find something that anyone is sure to love and appreciate. To give that perfect gift of pecans, think about the following and match up the factor to the gift.
• Does the person cook or want to learn how?
If so, whole or
cracked pecans
are a great gift. The reason is simple - they make it easy for someone to incorporate into recipes. Pair them with some unique recipe ideas like fish or chicken breaded with pecans or a great pecan pie recipe, and you'll give that culinary lover a great present.
• Are they health-conscious?
Pecans are a great choice here too, and fresh cracked pecans are perfect for mixing into a salad or yogurt. Again, you'll give them a gift they'll love.
• If the person you're shopping for has a sweet tooth, pecan gifts have you covered yet again.
Options like candied pecans in a gift tin will be something they'll get plenty of use out of and that they'll enjoy until the last crumb is gone. Simply put, there are few gift options out there that can match what pecan gifts can provide. If you're looking for that perfect present for any occasion, buying pecans could be just what you need. It will surprise them, but also delight them, every time!