Posted by wernuts2 on 23rd Nov 2018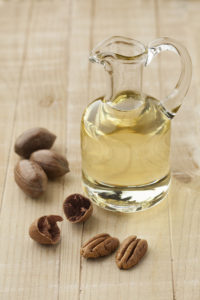 Most people know about the great taste of pecans simply from popping the nuts in their mouth, or maybe as an added treat in something like pralines. But did you know that the oil that comes from pecans can be even more useful—and healthy—for people that are willing to use it in the kitchen for cooking and baking needs?
Pecans are more than just an easy snack to grab, and here's what the oil can do for you in your culinary adventures.
High Smoking Point
Peanut oil is not that uncommon as a cooking oil, but it has a smoking point of about 450°F. For some dishes, that's right on the limit of the cooking temperature required to get the results you want. However, pecan oil has a smoking point of about 470°F, and while it might seem like "only" a difference about 20°, that's a huge variance in the world of cooking. You can safely cook with pecan oil without worrying about any unwanted smoking/chemical reactions. You get more stability, convenience, and safety from cooking with pecan oil with its higher smoking point.
Better Flavor
Some oils can go rancid and affect the flavor of foods when used, but pecan oil isn't one of them. Of course, like other vegetable-based oils, it can go rancid if left unattended and exposed to the air for too long. But when you use pecan oil correctly, it makes for a tasty cooking oil that can actually enhance the flavor of different types of foods, whether you're cooking, sautéing or even using it as a part of a salad dressing.
Great For Baking
Pecan oil also works as a great, healthy butter substitute when your mind turns to thoughts of baking. It makes for a lighter flavor, with healthier results when you eat it. However, if you really want, it's possible to have it "both ways." If you still want the flavor of butter but want a healthier alternative, pecan oil is great at taking on the flavor of seasoning that's added to it. So just add a pat of butter to the pecan oil itself, and get that butter flavor, without the negatives.
Many Health Benefits
When it comes to health, pecan oil is a great alternative. Not only is pecan oil a "heart friendly" food that gets checkmark from the American Heart Association, but it's also lower in fatty acids than other choices. At just 9.5% fatty acids, pecan oil beats out olive oil, with its 13.5%, peanut oil, with its 17%, and, of course, butter with its 66%! If you want a tasty, but healthy alternative for your cooking, baking, and other food preparation needs that's safer, more convenient and healthier, think about trying pecan oil. And if you're wondering where you can get it, look no further, we've got it right at our store and ready to go home with you and straight into your kitchen.