Posted by wernuts2 on 23rd Jun 2017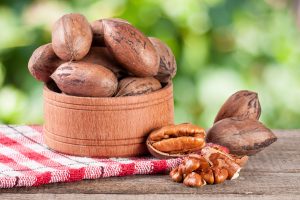 Pecans are one of the most versatile, delicious, and healthy nuts available. With a great, unique taste and packed with vitamins, minerals, and antioxidants, they're worth having in any home - as a snack or as an ingredient in recipes.
No matter what you're in need of, there's a type of pecan out there for you. Here are a few things to consider which can help you buy pecans that are exactly what you're looking for.
Varieties
While there are more than 500 varieties of pecans grown in the US, specific varieties don't really vary much in terms of taste. Size and shape may change, but that's pretty much it. As such, you won't need to worry about the actual species of the nut. However, Louisiana pecans are grown in a location that is rich with the proper nutrients and environmental factors that the nuts need to be their best. As such, Louisiana pecans are a better choice for most.
Type Of Pecan
You can buy pecans in a number of different forms, each of them offering something unique. No matter what you're looking for, there's a pecan that is perfect for you. Here are some of the options and their most common uses:
Really, you only need to determine what you're in the mood for and what you'll be using your pecans for. Once you know that, you'll be able to pick the type of pecan you need to buy.