Posted by wernuts2 on 21st Dec 2018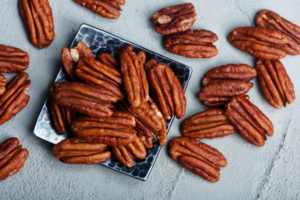 Many people believe that pecans are only useful when making pies, but this could not be further from the truth. Louisiana pecans are an excellent choice for a variety of recipes. Below, you'll find a couple of our favorite uses for Louisiana pecans.
Mulled Cider With A Pecan Rim
This recipe puts a twist on a classic winter beverage. While slow-cooking the mulled cider, you can make the delicious pecan rim. To start, you'll need the following ingredients:
• 1.5 liters apple cider, fresh
• 1 orange, sliced thin
• .5 lime, sliced thin
• 4 pieces of star anise
• Ginger with the skin removed, approximately one inch
• 1 Cup Cranberries
• 1 Cup Raw Pecans, ground or chopped
• Sea Salt
• .5 Teaspoons Vanilla Extract
• 1 Cup Coconut Milk
• 2 Tablespoons Butter Place the first set of ingredients in a slow cooker or a saucepan.
If you are using a slow cooker, allow the mixture to simmer for four hours. If you are using a pan, use low heat and allow the ingredients to simmer for about an hour. Don't let the cider come to a boil. While the cider is warming, place the sea salt, vanilla extract, milk, and butter into a saucepan. Turn the heat to medium-high until all ingredients melt, stirring occasionally. Continue to do so until the combination begins to boil.
Then, turn the heat to low and allow the mixture to simmer for about 30 minutes. Allow the mixture to cool, and then place it in the refrigerator. The substance should sit in the fridge until the cider is ready. When the cider is ready, remove the caramel from the refrigerator and pour it onto a plate. Then, pour your crushed pecans onto a different dish. Dip a glass into the caramel and then into the pecans. Pour cider into the glass for a delicious winter drink!
Pecan Taco Meat
This is an excellent recipe for vegans and vegetarians. If you love tacos but get sick of eating lettuce and tomatoes, you're in luck. This recipe allows you to create "meat" for your tacos. Not only is it healthy, but it will taste amazing as well. You'll need:
• 1 cup pecans, raw
• 1 teaspoon pecan oil
• .5 medium onion, diced
• 1 teaspoon oregano
• 1 teaspoon cumin
• 1 tablespoon coconut aminos Optional:
• .25 teaspoon garlic powder
• .5 teaspoon chili powder
• .25 teaspoon black pepper
Begin by drawing a saucepan over medium heat and adding the pecan oil, onion, aminos, oregano, cumin, and any optional spices. Cook for approximately four minutes. While this is cooking, chop the pecans in a food processor, Stir the pecans into the warm mixture on the stove, and presto! You have a delicious and healthy dinner meal.
How Do You Use Pecans?
Do you have a pecan recipe that you enjoy using during the holidays? If so, please share! We love hearing about different ways to use Louisiana pecans. Be sure to share your favorite recipes in the comment section below!