Posted by wernuts2 on 26th Jan 2018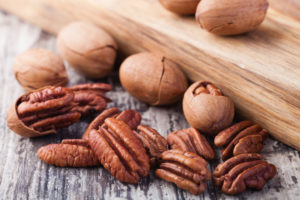 We're now in the thick of winter, and for many people in the northern states, especially the New England area, things are very cold and very unpleasant. People are staying at home more, enduring the outdoors less, and there are fewer options for fun and food once the weather gets really bad. But everyone still enjoys a good snack, especially if they're trying to avoid the cold and stay warm and comfy at home. Whether you're settling down with a warm cup of hot chocolate or coffee and a good book, or just want something within easy reach to eat while you watch a movie, or play that video game you've been meaning to try, our
Natchitoches pecans
are the perfect snack in winter!  
Always Ready To Serve
  The great thing about our
Natchitoches pecans
is that they're 100%, all-American, all-local, made by a proud, hard-working family that's in the business to feed our fellow Americans! So even if it might not be the right season for other types of crops and foods, you never have to worry if you have a craving for our
Natchitoches pecans
.
One of the great things about nuts, unlike other types of plants that are harvested, is that nuts are very easy to store and eat at a later date.
Many animals have taken advantage of this useful characteristic for millions of years, and we have too. This ability to naturally store pecans means that we always have some ready to go, whether you order them from us online to be delivered to you, or come into our store to buy a batch.  
The Louisiana Difference
  But one of the other great things about our
Natchitoches pecans
is that our mild weather in Louisiana allows us a very generous growing season. There isn't really a time of the year where we can't do something that is related to growing more nuts for our customers all over the country that have come to love them. Our central and southern position in the country means we rarely get the snow or the chilling temperatures that are so hazardous to some more delicate plants. Our pecans are grown under the best, most protected conditions, and with the good fortune to have such mild weather, we can keep growing them and taking very good care of them when other parts of the country are al-ready winding down their crop care. The warmer, more humid weather of the Louisiana area makes it possible for us to be much more cost-effective about taking care of and protecting our plants. We don't require big, NASA like devices to ensure perfect climate control since the climate is generally tolerable even during the win-ter months.  
Enjoy Some Today
  So if you're looking for a snack that adds some great taste and even a little health boost to your diet this win-ter, think about getting pecans. When they're made by an American family for Americans all over the country, you know you're getting a quality product that tastes great and even has health benefits.