Posted by wernuts2 on 13th Jan 2017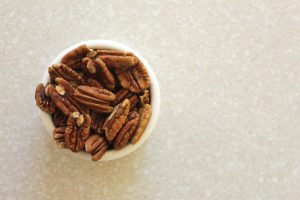 When you work out, you need to always keep your energy up. Whether you are training hard for a fitness goal or just maintaining your health, you want to make sure that you are also eating a healthy diet on gym days. One of the best, healthy snacks for keeping up your energy, building muscle, and aiding recovery on workout days is pecans.
Pecans are loaded with essential vitamins, minerals, and healthy fats that will help you keep you powering through your workout and help you reach your fitness goals.
Pecans: The Perfect Gym Snack
Pecans are not just the perfect gym snack because they are tasty and portable; they are also perfect because they have a range of great benefits for fitness buffs. Pecans are rich in fiber and healthy fats that support cardiovascular health and keep your heart strong through the work out. The healthy fats also give you a burst of healthy, lasting energy that can help push you through your hardest workout. Pecans provide even more energy and help you focus during training because they are loaded with both vitamin B6 and B12. Pecans also contain a ton of protein, which is essential for losing fat and building lean muscle. They also contain the amino acid tryptophan and the mineral potassium, both help aid in post-workout recovery. So no more sore muscles with pecans! With all these great nutritional benefits, pecans are an ideal workout snack.
When To Incorporate Pecans Into Your Workout
There are two times that are perfect for eating pecans. You can eat them before or after your workout depending on your appetite. If you'd like to make sure you have plenty of energy, grab a handful about 2-3 hours before your workout. That will give your body time to digest the pecans and get all the essential nutrients into your bloodstream right in time for the gym. If you are looking to recharge after a workout, eat a handful of pecans 15-30 minutes after you've worked out. This will give your body time to power down, so it can more effectively replenish the lost nutrients. If you are looking for a healthy snack to support your workout goals, look no further than Natchitoches Pecans. Our world-famous pecans are not only incredibly delicious, but they are a great workout snack to help keep you going. They have all the nutrients you need and a taste you'll love.