Posted by Julie on 10th Feb 2021
Valentine's Day is just around the corner and it's the perfect time to celebrate the people in your life you love. Whether you are spoiling your spouse, partner, or new love interest, fancy nut gifts are the perfect way to express your feelings. Louisiana pecans are rich, decadent, and indulgent, but they are always loaded with nutrients. So they are a healthy way to spoil the people you love.
Show You Are Nuts About Them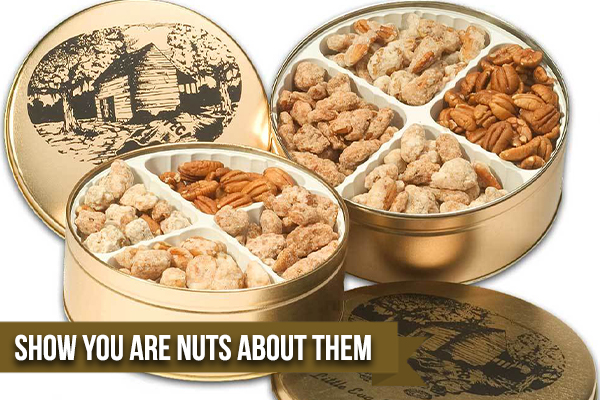 For romantic gifting, a great option is the Cane River Pecan Candy Tins. These golden keepsake tins are filled with sweets for your sweet. Loaded with popular pecan candy favorites including chocolate pecans, cinnamon spice pecans, and old fashioned cane pecans. There's also some natural buttery-sweet pecan halves. These pecan candies are perfect to share on a picnic date a glass of champagne or Southern bourbon or simple as a surprise gift they'll love.
Don't Forget To Spread The Love
Though often thought of as just a holiday to celebrate romantic love, Valentine's Day is a great way to show everyone you care. If you have a Galentine's or Guyentine's Day celebration, pecans are a great shareable gift with your friends. Consider getting Pecan Candy Foil Gift Bags for the occasion. With eight gorgeous varieties of pecan candies, they are a great way to give everyone at the party something special to take home.
Go Nuts On Valentine's Day
Pecans are also a perfect gift for your parents, siblings, and children. Valentine's Day is a great excuse to show your family you care. A great gift everyone in your family will love is the Praline Pecan Log Combo. With three different varieties of gourmet pecan candies, it's a sweet way to say "I love you."
Fancy nut gifts are the perfect present for Valentine's Day. Just make sure that you are showing your loved ones you really care by choosing fresh Louisiana Pecans. At Natchitoches, all of our pecan gifts are made with the finest quality pecans grown on Little Eva Orchard. Our pecan candies are made with traditional Southern recipes and are sure to delight anyone on your list. Check out these suggestions or custom the perfect gift for your loved one and you'll have the perfect Valentine's Day together.