Posted by Julie on 29th Mar 2021
Clementine Hunter was a self-taught folk artist from the Cane River region. She lived and worked on the Melrose Plantation, and her works portray that lifestyle. Clementine Hunter paintings tell stories. They are the perfect decorations to hang on a home's walls. Homeowners will enjoy viewing them day in and day out, trying to decipher their meanings.
The works can go in any room. Their vivid and bold coloring can brighten up bedrooms, living spaces, bathrooms, and more. Clementine Hunter paintings can also serve as conversation starters. Guests will be amazed by the pieces and want nothing more than to discuss them. What? You have been searching far and wide for the artist's pictures but can't locate them anywhere. Well, that just will not do.
We can't do anything for you when it comes to actual Clementine Hunter paintings. However, our company does have a variety of products featuring her works. Hence, you can decorate your place as you see fit and let your unique style shine. Now, we will look at a couple of the available options. So, if your interest is piqued, please, stay right here and read on to learn more.
Pecan Picking Pillow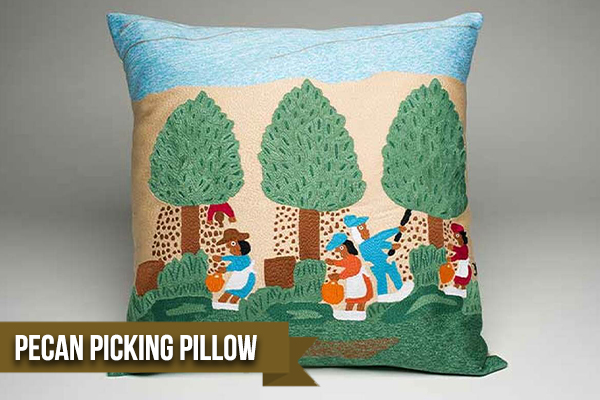 Do you have a couch that looks a little drab? How about a recliner that's a bit uncomfortable? Yes, then perhaps this whimsical throw pillow is right for you. It is soft and cozy but also firm, ideal for resting your head or supporting your back. This pillow is not only comfortable, but it is beautiful as well.

It features a hand embroidered rendition of the painting, "Pecan Picking." Plantation workers can be seen harvesting pecans in the image by thrashing trees and scooping the nuts off the ground. So, what are you waiting for? Go ahead and spoil yourself by placing your order today.
Cotton Mural Mug
Many people enjoy drinking coffee in the morning. It provides them with a jolt of energy and helps them wake up. Some folks also appreciate warm teas or hot cocoas every once in a while. Most consumers use mugs to hold these drinks. They keep them at the appropriate temperature and prevent their hands from getting burned.

If you prefer an excellent warm coffee, tea, or something else now and again, this rugged, handcrafted mug could be a good fit. It is thick, robust, and has an easy to grip handle. The Cotton Mural cup also depicts Southern life seen through the eyes of Clementine Hunter.