Posted by wernuts2 on 12th Feb 2019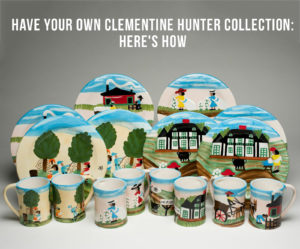 Few could depict life on the Cane River quite like Louisiana folk artist Clementine Hunter. Clementine Hunter only began painting in her 50's, but her art shows scenes from all throughout her long life spanning from 1886 to 1988. In the 1940's, a Clementine Hunter original painting would sell for just around 25 cents, but it's quite a bit pricier to acquire your own collection of original Clementine Hunter works today. Her work can be found from the New Orleans Museum of Art all the way to gallery displays in Washington, DC.
However, that doesn't mean you can't have your own Clementine Hunter collection. Not only do we carry Louisiana pecans, we also offer a variety of Clementine Hunter inspired pieces for your living room, kitchen, and anywhere in the home.
The Clementine Hunter art pieces are inspired by and feature her original depictions of Louisiana life on the Cane River from the 1880's until the 1980's, giving you a taste of true Louisiana history you can gladly get lost in.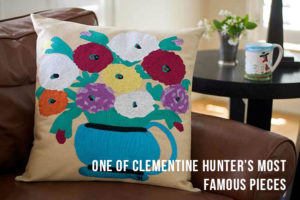 For the living room or bedroom, we carry 3 pillows depicting different pieces of Clementine Hunter art.First, there is the Pecan Picking pillow, a piece that uses embroidery to show the classic scene she painted inspired by life at the Melrose Plantation. The next pillow uses embroidery to depict her painting A Day At Melrose Plantation, showing plantation workers carrying out various tasks they could be seen taking care of every day. Lastly is the beautiful floral Zinnas Looking At You, one of Clementine Hunter's most famous pieces.
This work is a little different from her others, and rather than depicting people of everyday Louisiana life it instead shows how Hunter played with color and shape in painting still objects. Our Clementine Hunter collection is not limited to throw pillows, and also features her works on plates, tea towels, serving platters, mugs, and tableware.
With any piece you choose, starting your own Clementine Hunter collection brings pieces of historic Louisiana right into your home.