Posted by wernuts2 on 23rd Aug 2019
Clementine Hunter was a self-taught black folk artist from the Cane River region of the United States in Louisiana. She lived her life and worked on the Melrose Plantation. She was also the very first African American artist to have a solo exhibition at the New Orleans Museum of Art.
Best Known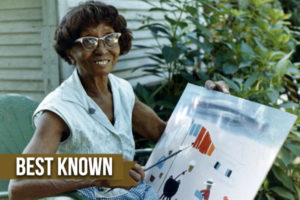 She is best known for her paintings depicting her life on the plantation. She would paint on any and all surfaces she could get her hands on which is why you will often find Clementine Hunter paintings for sale on different objects like plates, discarded fabric, and other materials that were readily available for her to paint on. The following are a few of the more famous Clementine Hunter paintings for sale:
Pecan Picking
This pecan picking painting can be found on a pillow. It is a whimsical throw pillow that has a hand embroidered version of her famous painting. Every piece of artwork she worked on was an expression of her own personal experience and provided a unique view of plantation life and history. You can also find this same image on plates and linen as well.
A Day at Melrose Plantation
The image on this serving plate depicts a day at the Melrose Plantation through Clementine Hunter's eyes and experience. It makes a beautiful addition to any folk art collection. Hunter began painting at the age of 52 and quickly gained recognition from those in the art community. The plantation was a hub for other artists and writers to meet and gather and share their work. For this serving plate, a high-quality glazing technique was used to make sure that Hunter's colors and details were captured and preserved.
One of a Kind
Considered one of Hunter's more one of a kind pieces, The Cotton Vase is another inspired creation you can find in her home collection. The vases depict a 360-degree view of her famous painting, The Cotton. Every detail of her original painting has been beautifully captured on this vase, and it boasts of a three-dimensional texture to further highlight all the best features of Hunter's famous painting. If you are looking to include some of Clementine Hunter's more famous works in your collection, then you can find a vast assortment available through Natchitoches Pecans.