Posted by wernuts2 on 1st Feb 2019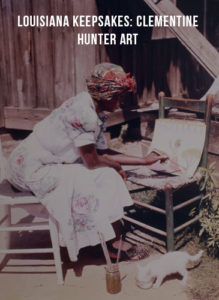 Few folks artists in the history of the United States captured everyday life, as well as Clementine Hunter, did for the Cane River region. Beginning in the 1940's, Clementine Hunter began documenting her life working on plantations in the Cane River region through her art, using bold colors and dramatic lines to invoke real-world emotion and wonder into every piece she created. To this day, these depictions are treasured all throughout Louisiana, and Hunter even became the first African American to be honored with a solo exhibition at the New Orleans Museum of Art. Baptism on Cane River, a famous painting by Hunter, has been cited as one of Oprah Winfrey's favorite paintings. If you're looking for a keepsake that embodies the magic, the history, and the spirit of New Orleans, Clementine Hunter art is exactly it. Not only do you receive a piece of Louisiana history, but you receive a piece that manages to transport you to another place and time each time you look at it. While an original Clementine Hunter piece may be out of reach, our Clementine Hunter inspired pieces are perfect for any budget and any home.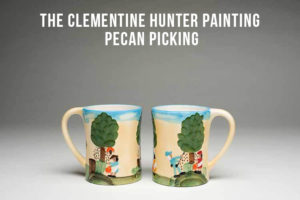 The Clementine Hunter painting Pecan Picking shows a scene of two plantation workers picking pecans in 20th century Louisiana at Melrose Plantation.
Our Clementine Hunter inspired collection has this very print in bold and vibrant color on a
mug
perfect for sipping coffee while having a slice of award winning pecan pie for breakfast, a
decorative display plate
that was created carefully to retain each of Clementine's bold color brush strokes, a vibrant
tea towel
made from 100% linen, a
throw pillow
that provides a pop of Louisiana to your sitting space, and a
serving plate
perfect for displaying pecan candies and gifts. Along with this famous Clementine Hunter work are others on various keepsakes that fit right in place in any area of the home.